Pastor Gary and Theresa

's Story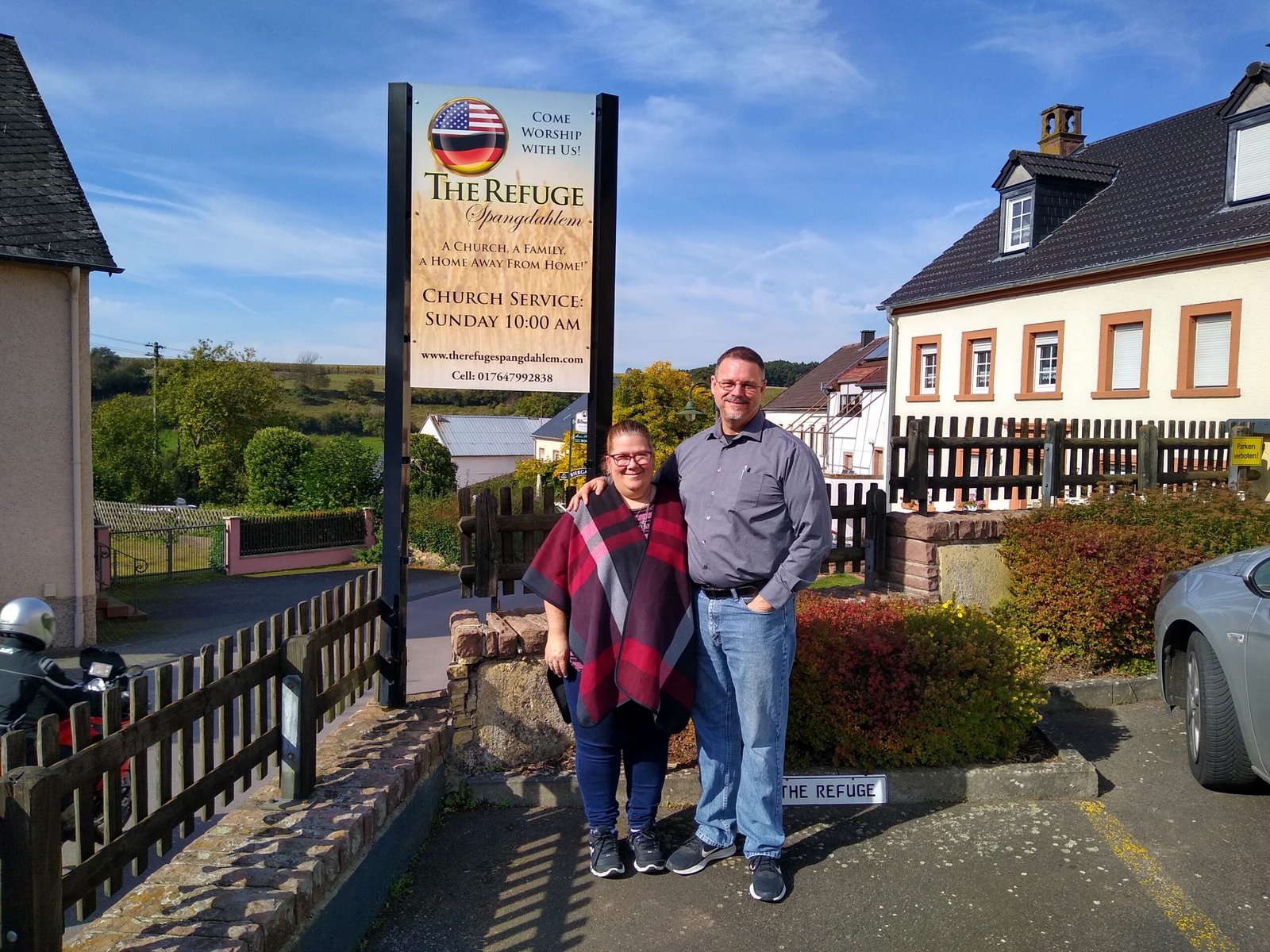 Pastor Gary and Theresa were living comfortable lives In Sanford Florida where they served in a Church of God as laity. Gary was active in the music ministry and bible studies, while Theresa served in the Children' ministry. After spending 17 years at the same church, God opened a door that would require they leave it all behind and move to Germany. Gary and Theresa where unsure why God was calling them to Germany, but two things were certain; God was calling them there, and His timing was perfect.
Gary and Theresa arrived in Stuttgart Germany in the summer of 2018. When they arrived, they didn't have a church to attend and they didn't speak German, so the local churches were not an option. They were still unclear why God called them overseas, but there was still no doubt in their hearts that He did. They just had to be patient.
A few months after arriving in Germany, Gary and Theresa got heavily involved with the Base Chapel at Panzer Kaserne Full Gospel Service, serving as the Parish Council President of the Stuttgart Gospel Service. Theresa served as the Children's ministry lead. These were great opportunities, but Gary and Theresa still felt God was calling them to do something more.
It was around this time that that through an unexpected God-ordained meeting that Gary and Theresa were introduced to the Freedom Outreach Ministry to the Military (MTTM).
Gary and Theresa instantly fell in love with the mission of MTTM. Finally, they began to understand why God called them oversees. They fell into their typical roles of support; however, it soon became clear that God was beginning to stretch their walk, calling both of them to take another leap of faith where they would just have to trust Him. God was leading them out of the lay ministry and into the pastorate. With this new clarity of what God was calling them to do, and though the guidance and direction of the Ministry to the Military, Gary and Theresa entered the Ministerial Internship Program. A year later both were commissioned as Ordained Ministers with the Church of God. With these new credentials Gary served as the Associate Director of the 'New Beginnings Ministry Center'. A Ministry to the Military (MTTM) Center in Stuttgart Germany. Pastor Theresa served as the Children's Pastor at the same center. But all of this was just preparation for what God was going to call them to do next.
In late September of 2021 they received a call from the MTTM headquarters in Cleveland Tennessee asking if they would consider assuming the role as the new Director of a Center in Spangdahlem Germany. Living in Stuttgart where Gary works made for a long and inconvenient commute. But in prayer Paster Gary felt God plainly tell him "I didn't call you to serve me when it's convenient." It was a clear message from God that this was where He wanted them. Several other conformations followed, and in October of 2021 Gary and Theresa assumed the role as the Center Director for The Refuge – Spangdahlem Germany.
Gary and Theresa were married in 1996. They have five children, all grown with one residing with them here in Germany and the others back in the United States. Gary is a military contractor by profession. Aside from the ministry, Gary's other passions are flying (Gary served as a Mission Pilot for the United States Civil Air Patrol), music, and science.
Theresa's passion is children and art. Theresa has been ministering to children for more than 25 years.